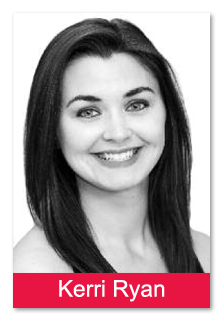 belongs to that special group of teachers who bring fun and excitement into each class tailored for our young dancers. The twinkle in her eyes and the enthusiasm in her voice surely contribute to winning the love of the children. Trained in ballet, tap and jazz under Gerry Barney, Nicole Lewandowski and Linda Polvere at our Dance Center, she earned a place in the Marcia Hyland Dance Company and teaching faculty.
With her extensive background in dance, she uses her energy, creativity and love of dance to inspire improved posture and increased flexibility in these early-grade students. She patiently demonstrates how to focus on each new movement, building confidence, and has a sensitivity to her young students' needs and dreams. According to Kerri, "Providing challenging but achievable goals encourages students to grow and develop as they learn new ways of moving. How rewarding it is to hear them ask for more!"
Kerri and her husband John are enjoying their four beautiful children: Ally (11), Chase (9), Drew (6), and Jack (4)! Busy at home and busy with her other little "dancing treasures," she looks forward to the excitement of costumes and putting on the "dancin' shoes!" Recital week has finally arrived—and it's time to perform!