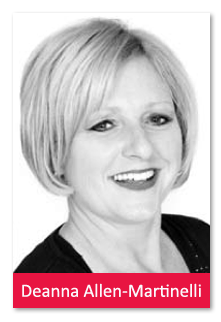 has a motivating energy that encourages participation, enthusiasm and joy. No wonder her students love her! She began her dance training under Marcia Hyland at the age of five, and continued on to become a member of the Marcia Hyland Dance Company, followed by her career in teaching here at the Dance Center. Adding to her experience as a dancer, teacher and choreographer, Deanna Allen-Martinelli has studied in New York City with Luigi, Ron DeMarco and Frank Hatchett.
No stranger to the pageant world, she was a featured performer in the Miss New Jersey Pageant for seven consecutive years, performed with our Dance Company at the Hotel Atop the Bellevue (Philadelphia) for the Miss America Pageant, and at the age of fifteen, became a production cast member in the Miss Burlington County Pageant.
Deanna has combined her extensive background in dance, pageant and modeling, taken it to the runway, and held the title of Choreographer for Journey Productions in Philadelphia, bringing this unique style of theatrical fashion events to the tri-state area. She continues to give her professional experience as Choreographer for Burlington Township's Middle School productions (2020) of "Bye Bye Birdie"
Deanna and her husband, Rich, are so proud of their three daughters. Vanessa is a dedicated member of the Marcia Hyland Dance Company, and graduated this year with her Masters in Art of Teaching from The College of NJ (TCNJ). Daniella and Marissa, are also Marcia Hyland Dance Company members while Daniella is attending The Culinary Institute of America and Marissa attends Stockton University. All anxiously awaiting our performances!