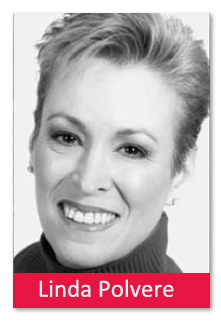 brings her remarkable talent and high-energy to both her performances and her students. Her extensive association with legendary choreographer Bob Fosse has given a unique dimension to her teaching. Linda Polvere assisted Fosse in recreating the choreography for his smash Broadway hit, "Dancin'" when the show toured the country. She was also given the responsibility of training the show's entire cast.
A Marcia Hyland student since the age of eight, Linda is also an accomplished member of our Dance Company, and under the direction of Choreographers Marcia Hyland and Ron Poindexter, was a featured dancer on the CBS internationally-televised "Miss America Pageant."
She and her husband, Michael, are very proud of their son, Mike, a Supervisor at Optimum Sports, a division of OMD Worldwide, Inc.
Linda's performances with the Marcia Hyland Dance Company and outstanding work with our upper-level students clearly illustrate the highly-skilled professional that she is!